Read Thie's Lastest News or choose from the track seasons below. There have been many thrilling, triumphant and occasionally traumatic times over the past couple of years. These articles have followed James and his exhilarating career. From his first victory in the USA, to his engagement to Alex, to having to sleep in a car in California with no money, just an energy bar to see him through the next race.
Trust me, its been memorable.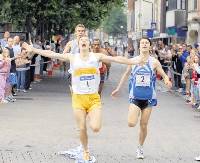 past News

In true Thie style James wins and races across the world. From Seattle to Brazil. Read the

latest news

from the international athlete.

Indoor 2005
A Packed season with races all over the globe. James positions 5th in the Europeans after a National medal in the 800m and wins in New York. James also asks proposes to girlfriend Alex in their favorite place in NYC, Coogans Restaurant.


James believes he is 5th in the World Championships - before the recent news that he was promoted to 4th place after a failed drug test. Thie runs a 2000m meter Welsh record, alongside wins in Bermuda and New York. A National silver at the AAA's in Sheffield after a gaining silver just hours before in New York


Double wins for Thie within 24 hours in Philadelphia and Falmouth, USA alongside wins in Oregon and Seattle.