Sam Haughian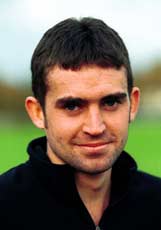 July 1979- April 2004
RIP Sam
One of James's friends and training partners,
Sam
Haughian
tragially died last night in a car accident. Sam was training in South Africa when the accident happened. His girlfriend is still in hospital. James spent alot of time with Sam at the SAAD Bahrain relays in December and has fond memories of him. A minute silence was held for him today at the National 12stage road relay. Sam was 24 years old and was training towards a place in the olympics this year. We would like to send our love to his family and friends at this time, and also to his girlfriend. We would like to leave you with his fantastic achievements, please feel free to leave any messages about Sam on our
message forum
. May you rest in peace Sam.
Personal Bests:
| | | | | | | | |
| --- | --- | --- | --- | --- | --- | --- | --- |
| | | | | | | | |
| | 3k | 7:57.24 | | 9 Jun 1999 | | 4 | Manchester |
| | 1500 | 3:45.23 | | 23 Jun 1999 | | 7rB | Watford |
| | 1M | 4:09.33 | | 5 Sep 1998 | | 2rB | Solihull |
| | 5k | 13:19.45 | | 31 Jul 2002 | | 5 | Manchester (CG) |
| | 10k | 28:25.87 | | 6 Apr 2002 | | 12rA | Camaiore, ITA |
| | 10MR | 49:30 | | 23 Sep 2001 | | 1 | Twickenham |
Championship Record
| | | |
| --- | --- | --- |
| European Championships | 5000 | 2002 9 |
| Commonwealth Games | 5000 | 2002 5 |
| European Cup | 5000 | 2002 2 |
| World Cross Country Champs | 12km | 2002 43 |
| | 4km | 1999 26 |
| European Cross Country | | 2001 6 |
| World Junior Championships | 5000 | 1998 14 |
| European U23 Championships | 5000 | 1999 6, 2001 6 |
| World Junior Cross Country | | 1996 89, 1997 64, 1998 dnf |
| European Junior Cross | | 1997 5, 1998 4 |
| National titles | 5000 | AAA U23 1999, AAA U20 1998, |
| | | Commonwealth Games Trial 2002 |
| | | UK 1997/87, English 1999 |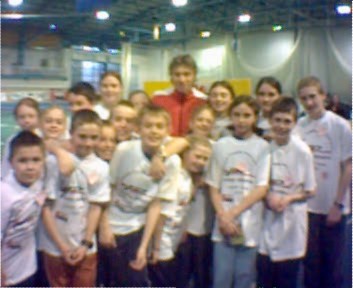 Thie with the young helpers
Welsh 2000m
Record Smashed
Hypark International
14th March 2004 - Cardiff
James smashed 11seconds from the 34yr old 2000m Welsh Record. His time of 5:09.60 brings the curtain down on a truly fantastic season - as his hangover this morning shows! "The Hypark meeting was another great success, thanks to the support of Phil Kirby of Hypark, without his backing this meeting would not be possible. It was great to be able to run another welsh record in front of such an appreciative crowd. This sets me up for what should be a great summer."
Photo Finish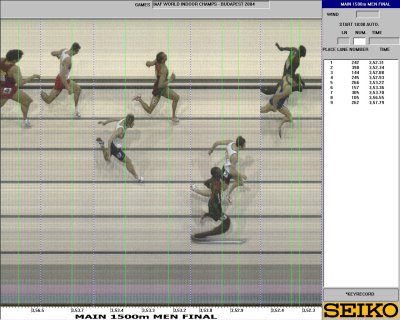 James takes fifth after East disqualified
World Indoor Championships
5-7th March 2004
James came home fifth in the World! - The race was slow and bumpy. Thie found himself boxed in for te first few laps - yet managed to work his way out to kick finish to the finish line. Michael East was dramatically disqualified after swerved out to lane four in front of Laban Rotich (Kenya), the 1999 World Indoors Silver medallist, in the finishing straight -moving James from his original position of sixth place to fifth. "I can't beleive that Mike was disqualified! - I obviously only saw the incident from behind - so I can't really comment - I feel I ran a good race considering it was so slow - All the guys in the race had a good kick - but I managed to hang in there and recieve an excellent position for someone in their first major championship final!" James dedicated the race to his mum who is currently in an isolation ward in hospital receiving chemotherapy and a bone marrow transplant -she is unfortunately suffering from lymphoma cancer. James will be flying straight back to Britain where he will be met by girlfriend Alex, then on to the hospital. James has also received help in the run up to these games from the crew at the Welsh Institute of Sport - in particular Dan Hunt - who has monitored James track side and in the lab "The guys at the Institute have been great - they believed in me when not many other sporting bodies did". You can catch these results and all the latest news and results on the UKA website.

IAAF Grand Prix, Birmingham, 20th Feb 2004
James ran a world class time of 3:38.69 at the 1500m in the Grand Prix. The time is the equivalent to a 3:54 mile and places James fifth on the all-time rankings for a British male. James faced the world's best such as
Rui Silva (POR)
and
Ivan Heshko
(UKR).
James magnaged the time after a rough first lap where he was accidently hit in the eye - "I couldn't see in that eye for the first couple of laps, but it just made me more determined!" The time should surely place him in the squad for the World Indoor Championships but James still thinks he could have ran faster! For a full set of results go to the
Uka website
.

Sub-4 win for James!
THE NEW BALANCE ARMORY COLLEGIATE INVITATIONAL
February 13-14, 2004
Armory Track & Field Center, NYC
James retained his title in the one mile race at the famous Armory Track. After his hectic schedule the week before, James showed his form winning in 3:59.65 from Jason Long who came home in 4:00:04. The night before James took third place 1:50.23 in the 800m in what was according to James a "rough race". Yet it was the mile on Saturday night that James proved his talent speaking after the race James said "I had so much support from the crowd! - They cheered me on all the way- I could not beleive the noise they made for me when I won". Upon asking James what his next intentions were - James replied "That's obvious - a beer and steak at Coogan's Restaurant". For a full set of results visit
The Armory website
.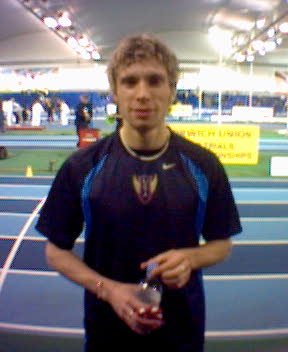 "All in a Day's work!"
National and international press were keen to jump on the story. Thie raced in two different cities, in two different countries, in two different continents in less than 16 hours. On Friday night at (NY time) Thie finished second in the famous Wanamaker Mile at Madison Square Garden in front of a crowd of over 12,000. James had to settle for second place (4:04.28), after closing on Brazil's Hudson de Souza (4:02.93) in the final lap in what was a magnificent event. After the race James was clear on his objectives, 'on with the next!'

Twenty minutes later he had hailed a yellow cab to take him to JFK airport to return to Britain in time for the National AAA 1500m Championship heats the next day. James comments 'I had to do my warm down jogging around the café at JFK while keeping an eye on my kit! 'After catching an internal flight to Manchester, James was picked up by girlfriend Alex and drove the distance to the city of Sheffield, arriving just over one hour before the race was due to start at 6.00pm (UK time) 10 minutes later, James discovered that the heats were cancelled in place of a straight final that evening!

An adrenalin pumped James put on a brand new pair of Nike spikes said "F**k it - if that's how they want to do it!". In a rough tactically run race the pace quickened with James stretching his legs to finish a firm second (3:46.76) behind Commonwealth Champion Michael East. Thie commented 'Michael is in fantastic form so I am not sure if I would have won anyway'. James beat of stiff competition from the likes of the expereinced Mat Shone and 2003 3k World representative Tom Mayo, and former 800m champion Neil Speight.

Click on one of the links below to read some of the international coverage of James Weekend!

The Times Online, The Independent, Yahoo! Sport, UK: Athletics, Sportinglife.com, Britishathletics.info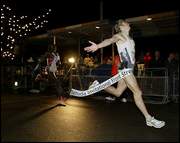 16th January 2004
Hamilton
,
Bermuda
James Thie (Wales/ Cardiff/ NYAC) returned to Bermuda to defend his mile title last night and won despite the stiff competition from top Kenyan athletes Elkanah Angwenyi and Patrick Nthiwa. The stormy 45 mph winds battered the athletes which resulted in a slow tactical race with the welsh record holder Thie, winning from Angwenyi in a time of 4:18.81. James comments the crowd were amazing, I was cheered on for the whole mile. The atmosphere was fantastic again and all the athletes were well looked after for the entire trip. I am looking forward to making it a triple victory next year in a sub-4 minute mile!
A full set of results can be found by following this link . For excellent commentary from The Royal Gazette follow this link.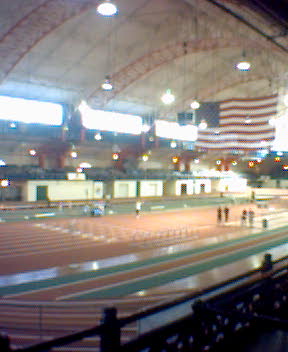 24th Jan 2004, The Armory, NY
James had to settle for third place, in a tight three way dive for the line, in what was one of the many thrilling races of the day. The Kenyan, Elkanah Angwenyi, (James victim from the Bermuda Front Street mile the week before) won in a time of 4:02.73 ahead of Whiteman who was 0.05 behind and James who came home in 4:02.89. Disappointment for James who comments 'the Armory is like my home track. It hurts more to get beaten here. But that's the risk every athlete takes in a slow run race. Things like this just make me more determined next time.' As defending champion, all eyes were on James and as the home favourite. He recieved support from many different people such as all the Armory crew and Peter Walsh who continued to support James with his world class food at Coogans resturant situated next to the track.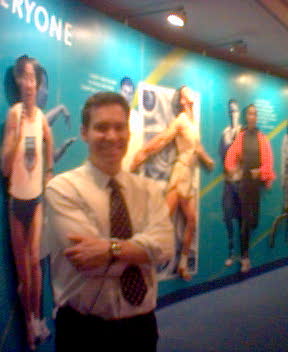 Grand Opening
National Track & Field Hall of Fame
Sat. Jan 24, 2004
James, alongside girlfriend Alex, had the pleasure of witnessing the grand opening of this fantastic facility. The Hall of Fame can be found in the Armory Centre and is open to the public. Spending just 2 minutes inside this amazing new development is enough to inspire the athlete in the most unlikely of person. It is a tribute to the greats that have achieved so much and an inspiration to the next generation. Next time you are in New York, it is imperative that you go to Washington Heights and a pay a visit to the Hall of Fame!