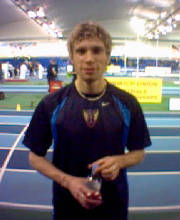 National Bronze in 800m
Norwich Union European Trials & AAA Championships
Sheffield UK


Sunday, 13 February, 2005
With James ranked UK # 1 this year over the 1500m, the spot in the European Indoor Championships next week was awarded to him before the trials. With that in hand, James entered the 800m at the UK AAA National Indoor Championships to keep up his speed work. Excelling all expectations, Thie ran 1:50 to qualify the final on the Saturday – before stretching out to collect bronze in the Final on Sunday.
"McIlroy, who took first place, is absolutely flying over this distance. My good friend Jimmy (2nd) is such a talent. He just has so much confidence – he is always good fun in a race.

This is the first 800m I have run since the summer – so national bronze is pretty good – and it gives me confidence for the Europeans".
Results:
1 James McIlroy (WSEH) 1:47.94, 2 Jimmy Watkins (CARD) 1:48.32, 3 James Thie (CARD) 1:50.07, 4 Chris Reynolds (WG&EL) 1:50.36, 5 Tim Bayley (BELG) 1:51.17, 6 Andrew Brown (WG&EL) 1:52.40
5th Annual New Balance Collegiate Invitational Mile
The Armory, NYC – Feb 4-5, 2005
Just hours after
The Millrose Games,
James triumphs in the mile to comfortably win in 3:59.20. The rest of the field were left trailing behind with second place finishing in 4:04.10. James sat behind the pack until the final four laps of the historic track. Then he kicked in picking one athlete off at a time before cleanly stepping ahead of the rest of them to the front. James seemed to stretch his legs out and pull contentedly away to come home in a sub-4.
"I love running here at the Armory – I have a huge amount of support here in New York. From the staff here at the Amory to Peter Walsh and David Hunt of Coogans Restaurant, who have been advising me all week. I owe this win today to them".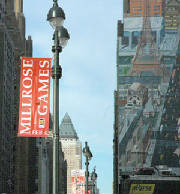 The Wanamaker Mile
Madison Square Gardens, NYC
This year's Wanamaker was record breaking and James was a fixture in this owe inspiring event.
Three laps into the 11-lap race, the two Kenyans had built a significant gap over the rest of the field, wich featured Thie, who was 2nd in the 2004 race, USA miler, Alan Webb and two-time Wanamaker Mile champion, Laban Rotich of Kenya.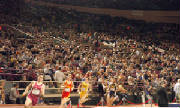 James' main rival this year, Angwenyi kept up the pressure, and the Kenyan duo reached the halfway point in 1:54.3. Angwenyi surprisingly stepped aside with four laps to go, so Lagat was left to race only against the clock.
James kept with the pace so far, but now was running his own race against the second pack. Lagat was not only gunning for Eamonn Coghlan's 1981 Wanamaker record of 3:53.0, but also Noureddine Morceli's Madison Square Garden record of 3:52.99 set in 1991. Covering the final quarter in sixty seconds, Lagat's form held-up to take him to the finish line in 3:52.87, a remarkable time for the tight 141 meter Garden track.
James ran the fastest time he has on the track.
"The track is such a tight and hard track to run on. Everyone but Lagat was beat at the end and gasping for air in the dry arena. Most of us, including Webb ran so hard for the slow times we had – it's deceptive. I just don't know how Lagat looked so good.

I had such good support out there with the Walsh family and my fiancée watching in the crowd, it was tough but I enjoyed it".
The results are as follows:
1. Bernard Lagat, Nike (KEN), 3:52.87 MR
2. Laban Rotich, adidas (KEN), 4:00.33
3. Alan Webb, Nike, 4:00.91
4. Rob Myers, Reebok, 4:02.42
5. James Thie, NYAC (GBR), 4:02.70
6. James Nolan, Asics (IRL), 4:06.51
7. Elkanah Angwenyi, Nike (KEN), 4:12.64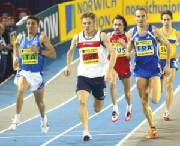 Norwich Union 1500m International
(GBR v FRA v ITA v RUS v SWE)
29 January 2005, Glasgow
The event was televised live on the BBC - Thie impressed the commentators yet again with his running style. In the end it was a showdown between Italian runner Vincenti and Thie - Vincenti has shown impressive form on the Indoor circuit and eventually won out against Thie in an owe inspiring showdown.
"Vincenti is a solid indoor runner - he beat Michael East last year by a long distance. This was my first 1500m of the year - so I have to be please with the result".
The 1500m results were as follows:
1 ITA VINCENTI Salvatore 3:54.68;

2 GBR THIE James 3:55.10;

3 FRA ABRAHAM Alexis 3:55.26;

4 RUS SHABUNIN Vyacheslav 3:55.38;

5 SWE WALLENSTEIN Johan 3:59.36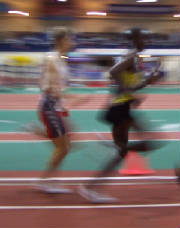 Thie and Angwenyi battle it out
New Balance Games
The Armory, NYC - Saturday 22 January
James returned to his beloved New York to meet with his fiancée Alex in their Manhattan apartment.
"It is great to be back in the Armory. This is the best track in the world - and it feels like my second home."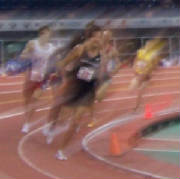 The line up for the race featured Elkanah Angwenyi of Kenya, who caught James on the line in Bermuda. James had his NYC cheering squad in full force. Yet the Kenyan, just managed to see James to a runners up position. Thie, the 2003 champion, was second in 4:00.06 while Scott McGowan of the United States was third in 4:00.58.
"I wanted to win, but Angwenyi is just on form right now - I'm getting sick of seeing the back of him."
James should get his revenge on the Kenyan as he is due to line up in the coming Millrose Games.
With Lou Vazquez - Director at the Amory Track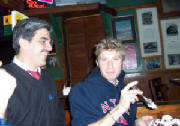 At Coogans after the race
"I'm nearly where I want to be, I just need to get into it. This is what track is all about… perseverance. Right now - I'm off to Coogans to tuck into a well earned Steak Sizzler!"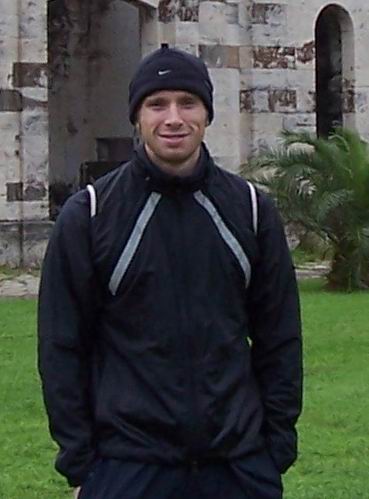 Front Street Mile
Bermuda 11th Jan 2005
Having won the event for the past two years, James stepped into the race as the favorite. The race started slow - with the entire field watching and waiting.
"The race was slow and weather was hot and humid. When pace kicked in at 200 to go - my lungs felt good, but I just couldn't turn my legs over quick enough."
In the past the wind was against them, suiting James as a strength based runner. This year with the wind on their backs, it became a sprint for the line. They were all in it to the line, but James lost the battle coming 4
th
. The Kenyan winning the race behind the Mexican runner and good friend, Christian Hesch of California.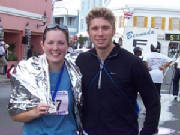 The Finish line
Yet the weekend saw his fiancée Alex run her first marathon. Alex normally leaves the running to her long time partner, however, this time it was James who was on the sidelines cheering.
"I was so proud of her competing the marathon. Here in Bermuda is the perfect place to run it for the first time. She did so well and I think she now has the running bug - as she is already talking about her next marathon"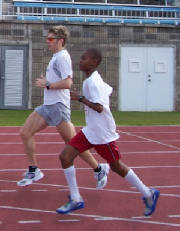 James and Dorian
In true Thie tradition, James ran the 10k the day after the mile. James took the opportunity to pace Bermuda's up-in-coming track and triathlon star Dorian Armstrong. The local school athlete came home as 2nd fastest in his age group.
Boxing Day 4 mile
Clevedon, North Somerset, UK -December 26th 2004
James dramatically wins this hometown race which has alluded him for many years. With crowds into the thousands rooting for the local hero, Thie front runs the entire race with the threat of competition constantly hot on his heels. Thie comfortably wins in style.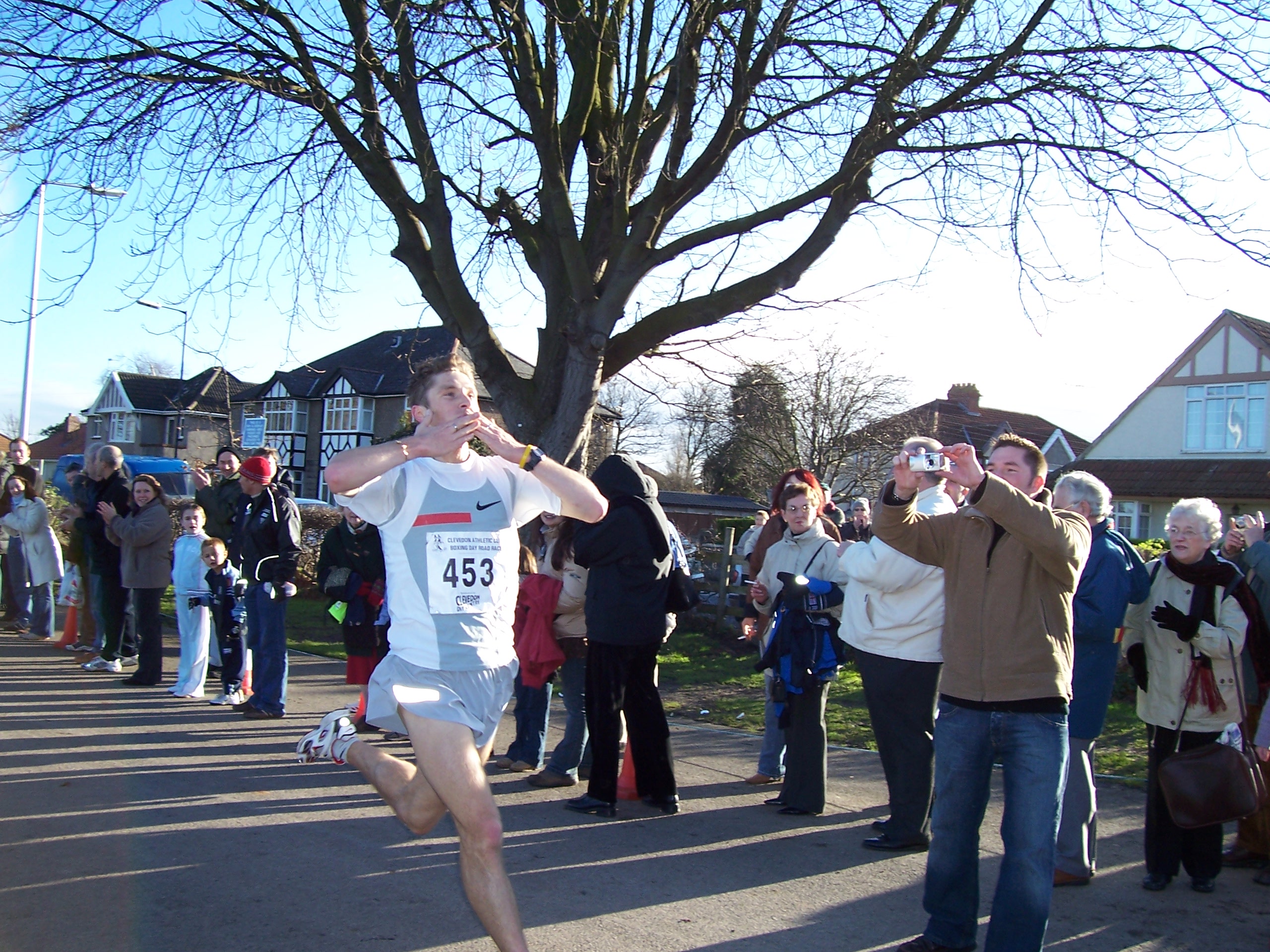 "I can't believe the support I had here in Clevedon. On every corner I felt like I had someone cheering for me".
"I've ran here every year since I was young - all the best 4 milers in the UK travel to my home town to run this event - so I've had tough competition over the years as this is a longer distance than I usually compete in.

Finally it was my turn to win. It shows all the training I did in Albuquerque and Colorado is kicking in!"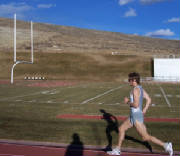 James has published his complete training from October 2003 - November 2004. View weekly mileage, sessions, and how he overcame injury through training techniques to succeed to a World class level.

Follow this link

or select

'Training 2004'

from the main menu.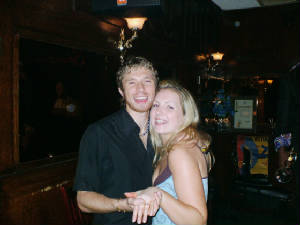 First James proposes to long-term girlfriend Alex in New York, before traveling to train in the spectacular Colorado Mountains. Finally in a strange twist of fate, James is promoted to 4th in the World Indoor Final after drugs bust.
At Coogan's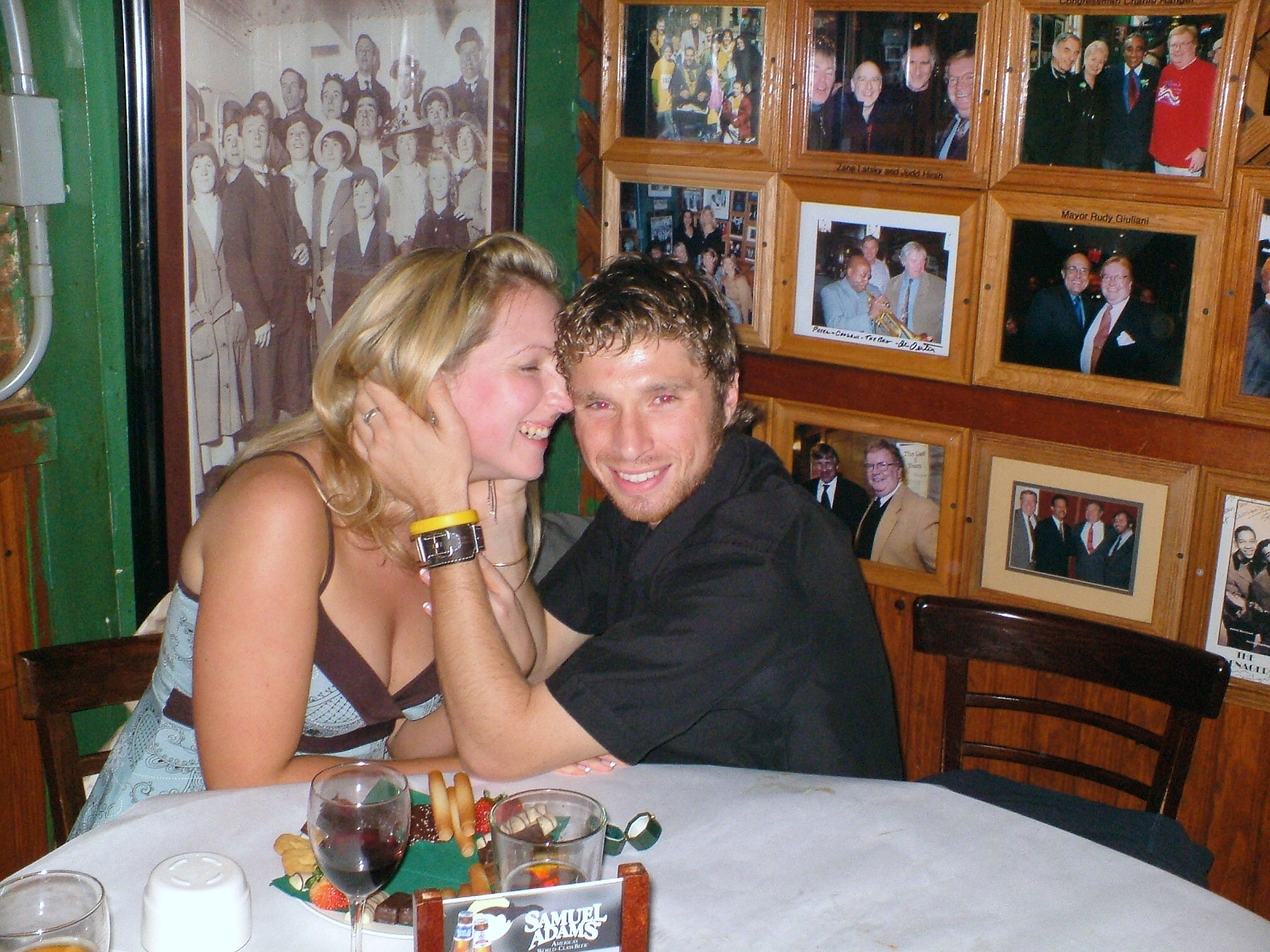 After a party packed week in the Big Apple, James and Alex headed for the hills for the start of some intense training in Colorado. With the help of New Zealand 5k Olympian, Michael Aish and USA international distance runner Nicole Aish, James will begin a program of training aiming to gear-up for the coming Indoor Season.
"I'm looking forwared to getting back into training. It's great to have two of the nices people in the sport helping us out".
The Journey to Gunnison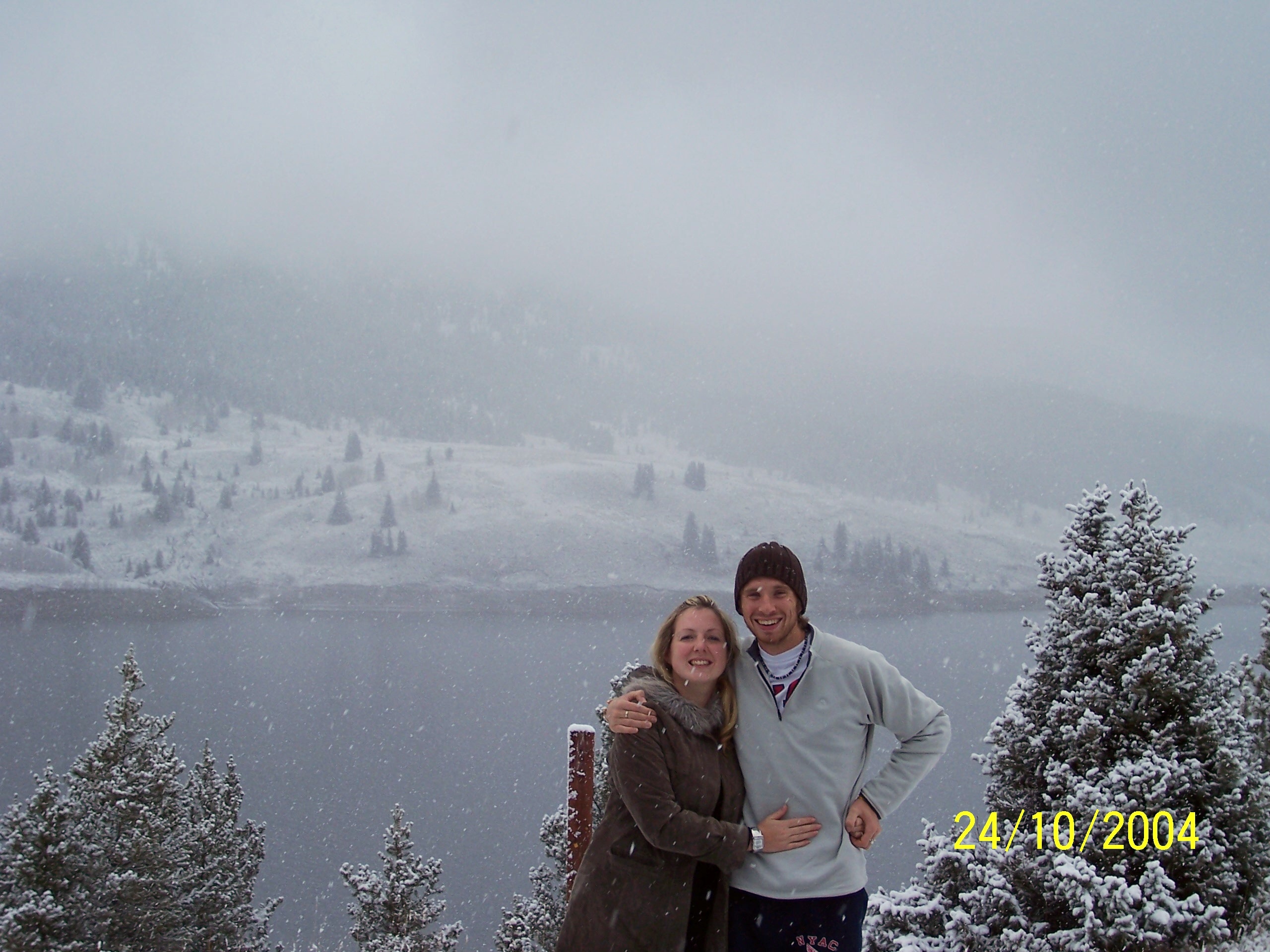 Up to the Mountains
With fantastic friends and in their favourite New York establishment, Coogan's, James went down on one knee and asked Alex to be his wife. The antique diamond ring was cheekily served as a sweet among a platter of biscuits, after the couple enjoyed a sizzling steak with mash and spinach. James reflects,
"I'm so glad she said yes, as we're so good together and I love her so much".
Owner, Peter Walsh, orchestrated the evening which ended in Harlem's famous Jazz club 'Showman's'. A memorable evening which kick started the couple's latest adventure.
Three days into the altitude training and James receives some shock news - a Moroccan athlete who finished 4th in the World Indoor 1500m Final in Budapest, just 0.1 seconds ahead of James, tested positive for a banned substance after a test days before the Champs. James reacts:
"It feels real strange as the race was months ago, but moving up to 4th place in the World Indoors means a lot to me".
"When I know how hard I worked to get there, for someone to take drugs and cheat to beat me is really sad. But it's a good day for the testers and the sport that they got him. In this sport, you can only worry about yourself, as anything else is just counter-productive. On to Madrid 2005!".
Aish and Thie Training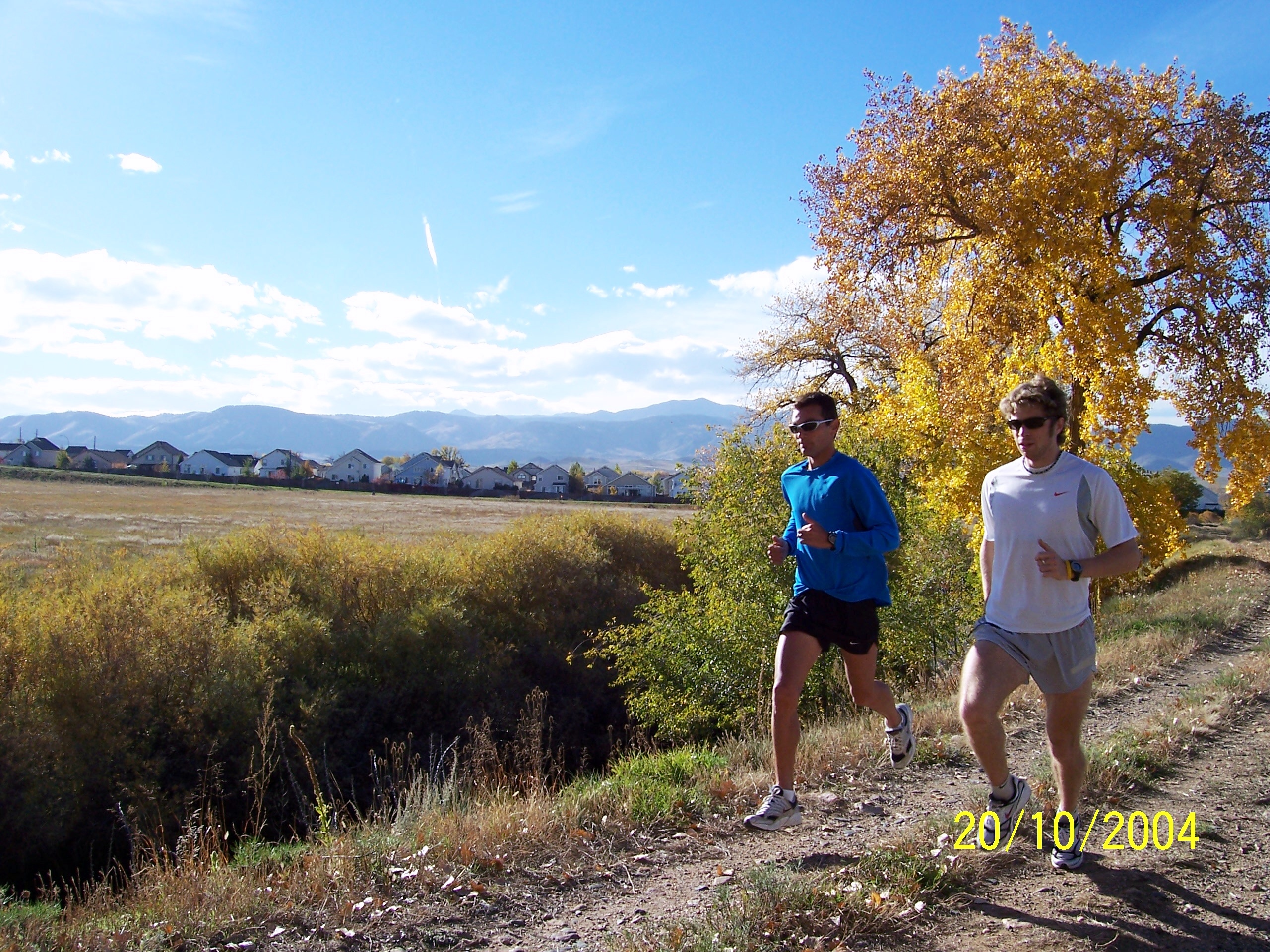 Boulder, Colorado