Info....
'Penn Relays', Philadelphia, Pennsylvania - Friday 25th April 2003
James opened his Summer 2003 campaign with a sucessful couple of days competing in the Penn Relays, Philadelphia. Friday 25th April saw him and his New York AC team mates cruise to an unchallaged win in the Olympic Development DMR. Given a comanding lead before his leg, James had the luxury of running a relaxing anchor mile leg, cloking an easy 4:08.0 split. James comments "It was a nice way to start my Penn career - Our team was strong, it would have been interesting up against some of the big teams, and it's always nice to get a gold watch!" - James had never planned the run the open mile the next day, but felt after the DMR, he had more to give the meet. After some quick talking, to some good friends (In high up places) - a wild card entry was given to James. In an 18 strong field, nobody wanted to take the pace, splits of 62, 2:04, 3:07, saw a tight bunch of runners. The Kenyan, Shadrick Koirie, who had already taken the 5k on Thursday in a world leading time of 13:16 - took the lead with just over 200m to go. By the time, James had emerged from the pack, there was no catching the Kenyan. A solid second for James, in 4:03.86 was a satisfying start to the season. "I never planned to run this race, but after the time trial the day before, I just wanted a race! - and that's what I love to do!"
Congress Road Mile, Austin, Texas.
22nd March 2003
James finishes 4th in time of 3:50 - a solid end to what has been a fantastic season! - James followed the fast early pace of 1:51 1/2 mile split, leading briefly at the 3/4 mile split - James felt great and ready to make his move however, as James comments 'the last 100m I felt perhaps lacked the freshness that I had at the start of the season" - James, travelled only one day after returning from the World Indoor Championships- making the 24hour journey to the American State. "I enjoyed the event - but I am now looking forward to getting some hard training done - so my outdoor season will be as successful as my indoor"
IAAF World Indoor Athletics Championships
March 14-16th 2003
James runs seventh fastest time in the heats clocking a PB and a new Welsh record with a time of 3:41.18! In a rough set of heats where even defending champion Rui Silva failed to qualify, James ran remarkably well - just two positions off the qualifying mark. A magnificant effort considering that this was his first major championships! After the race James had mixed feelings - he knew that running a PB, Welsh record, and clocking a faster time and better position than some of the world's best is good - but showing his world class mentality - James felt that now he has some major championship experience under his belt - he still has much more to give! For full results of the heats
click here
.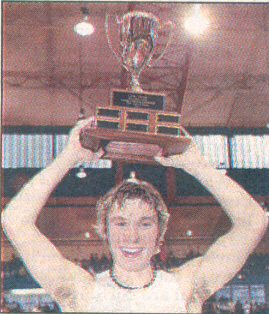 (Picture from South Wales Echo 18/2/03)
NYRRC CHALLENGE CUP MILE

Saturday 15th Feb 2003

James sweeps in at 1st place smashing yet another
Welsh record
with a time of
3.57.71
forcing opposition such as
Eliud Njubi
(Westchester TC/ Kenya) 3:58.72, and the well documented Nike sponsored
Alan Webb
3:59.49 to settle for the runner up positions. James comments 'I knew I was in good shape, and was ready to run a fast mile - but my main aim was to win the race, that's why I sat in as long as I did, and didn't help too much with the pace. Really pleased with how I felt and how strong I finished, which gives me alot of confidence going into the
AAA
s in a couple of weeks. The support was fantastic in New York - with so many friends in the Armory, it's like a home track to me. Most important is that I am enjoying everything!' Click here for full
results
. Read
'Runners World' indepth interview with James
. Below are links to some of the press articles for this event.
THIE SETS WELSH RECORD!
Lansing Linde Severnside Trophy Indoor International - NIAC, Cardiff
History was made on Sunday as Thie won the 1500m in a time of 3.42.28! - Setting a new national record and staking his claim for a place at the World Indoor Championships next month.The exciting race thrilled the home crowd as they cheered him on to smash the previous Welsh record of 3:43.0 held by Malcolm Edwards from 1984! The race was paced by the unselfish Matt Shone, who had earlier finished second in the 800m. To make the achievement even more amazing, Thie had only arrived back from the USA at 2am that morning! The race was so spectacular that the sponsers, Langsing Linde Severnside Ltd, awarded James 'athlete of the match'.
Millrose Games
Madison Square Garden, NY, USA -Friday 7th Feb 2003
James finished just behind Olympic 1500m Champion Noah NGENY (Kenya) in his latest adventure, at the Verizon Millrose Games in the famous Madison Square Garden, New York, USA, on Friday 7 February.

Given a late entry into the illustrious Wanamaker Mile after he won the elite mile at the New Balance Games in New York, USA, on Friday 31 January, Thie finished fifth in 4:03.41. The race was won by Bernard LAGAT (Kenya) in 4:00.36. NGENY in fourth clocked 4:02.92. For full results of the meeting click here Click here to view photos of the race.