Steve Prefontaine 1951 -1975
"Legend" - Pre to me is still the spirit of running. The stories of his flair, strength, speed and 'no-bullshit approach' have to inspire any middle distance runner. In September 2002 my girlfriend and I had the chance to visit his home town, Coosbay (Oregon) and meet his parents and experience some of the magic behind the phonomenon. I also took part in his 10km memorial run in which I finished 3rd (not bad at the very end of the track season!).
'Pre's rock'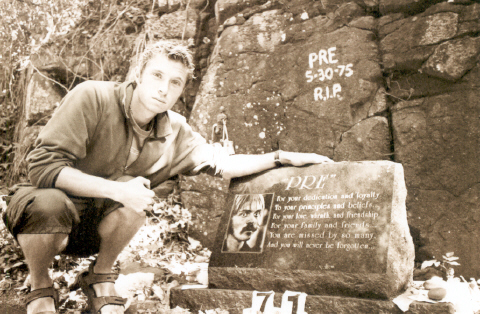 Eugene, Oregon, Sept 02.
Here some of the best Pre related websites.
For other sites click one of these folowing links.
Seb Coe 1984 Olympics
Seb Coe
"Total Professional" - Coe acheived everything, Olympic golds in 1980 and 1984, plus many world records. My current training is based on the 'five pace system' introduced and developed partly by his father Peter Coe.
A good book 'Training for Distance Runners' by Peter Coe and David Martin - is a publication that I would recomend.